PEUGEOT 5008 SUV
Get on board for a new level of imposing style, full of space and boldness.
With a sporty line and surprising fluidity for a 7-seater SUV, including 3 ISOFIX points as standard, the new PEUGEOT 5008 SUV revamps the modernity of its lines, inaugurating the design codes of tomorrow.
Its enhanced PEUGEOT i-Cockpit driver's position and its top-of-the-range features offer you better sensations and the performance of a grand touring car,
for a journey that exceeds your ambitions.
DESIGN
BOLD DESIGN*
Expand your idea of imposing style.
The new 7-seater PEUGEOT 5008 SUV revamps the modernity of its silhouette, with elegance and maturity, striking a perfect balance between power and refinement.
With a new frameless radiator grille and brand identity lighting signature, its front end appears perfectly integrated, sculptural and distinctive, with a new metallised fairing bumper and glossy black side scoops.
The dynamic and sporty stance of its raised body design is highlighted by the chrome insert that extends the line of the headlights to the rear spoiler, and enhanced by the new 19″ San Francisco diamond-cut aluminium wheel rims that add a final touch to its athletic muscular body.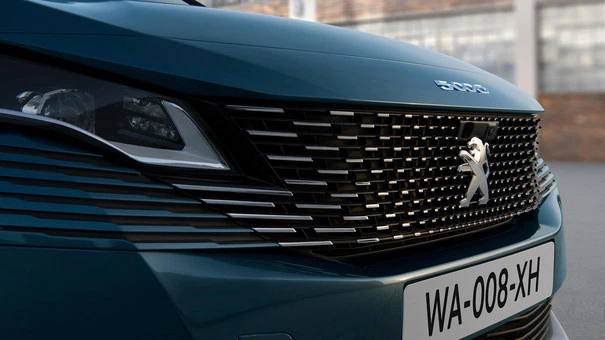 FRAMELESS RADIATOR GRILLE
Its new frameless vertical, chiselled, chequered radiator grille, extending right to the ends with fine blades, boasts an integrated front end,
with smooth and streamline lines.
PANORAMIC SUNROOF
The "Black Diamond" roof, fitted with aluminium roof bars, enhances the robust and fluid design of its silhouette.
The panoramic sunroof adds more pleasure and light in the passenger compartment, for an exciting travel experience for all passengers.
SPACE
Compact in its category, the new PEUGEOT 5008 SUV provides lots of space.
The interior fittings have been optimised with intelligence to offer excellent spaciousness and an unlimited (almost) modular layout from 1 to 7 seats.
It also allows easy access to a large boot volume, thanks to the Hands-Free Tailgate
which lets you open and close the motorised tailgate with a simple foot movement.
HEADLIGHTS
Its full LED headlights, fitted with the EVS function, framed by "illuminated fang" daytime running lights with chrome-plated tips enhance its feline look.
DRIVING POSITION
AMPLIFIED TECHNOLOGY*
Amplify your sensations behind the wheel of the modernised, innovative and ergonomic PEUGEOT i-Cockpit®.
Equipped with the compact steering wheel for improved handling and seven "Toggle switches", the new PEUGEOT 5008 SUV is enhanced with a new 10″ HD central touchscreen and the new 12.3″ head-up digital instrument panel in high-quality display, fully configurable and customisable, to follow the main elements of your driving without taking your eyes off the road.
ENGINES
ENGINES
HIGH-EFFICIENCY *
Nimble and easy to handle, the new PEUGEOT 5008 SUV offers the dynamic performance and acoustic comfort of a grand touring car.
It comes with the latest-generation Euro 6d-certifiedi PureTech petrol or BlueHD diesel engines and all equipped with "Stop&Start" technology:
1.2L PureTech 130 S&S 6-speed manual gearbox engine
1.2L PureTech 130 S&S EAT8 engine
1.6L PureTech 180 S&S EAT8 engine
1.5L BlueHDi 130 S&S 6-speed manual gearbox,
1.5L BlueHDi 130 S&S EAT8 engine,
2.0L BlueHDi 180 S&S EAT8 engine
With its efficient engines that can be fitted with the EAT8 automatic gearbox, its optimised weight and ultra-short turning circle, the new SUV PEUGEOT 5008 offers the pleasure of sharp, agile and precise steering and exhilarating driving pleasure.